Sockeye Salmon Poke
This is an easy Poké preparation I threw together last weekend.  I used one of our H&G (headed & gutted) whole Cook Inlet Sockeye and it was AMAZING!  
Ingredients

One Whole Kenai Red Fish Company Sockeye Salmon, or two fillets
2-3 Tablespoons Soy or Tamari Sauce
1 teaspoon Toasted Sesame Oil
1 teaspoon lime juice (or to taste)
4 Scallions, Chopped
1 Avocado, Chopped
Lightly Toasted Sesame Seeds
Furikake Seasoning
Ikura (Salmon Roe)
Step 1:
Fillet the salmon, saving the skin for your pets or for fish stock.
Step 2:
Cut Sockeye Salmon into 1/2 inch cubes.  If you find pin bones, remove them.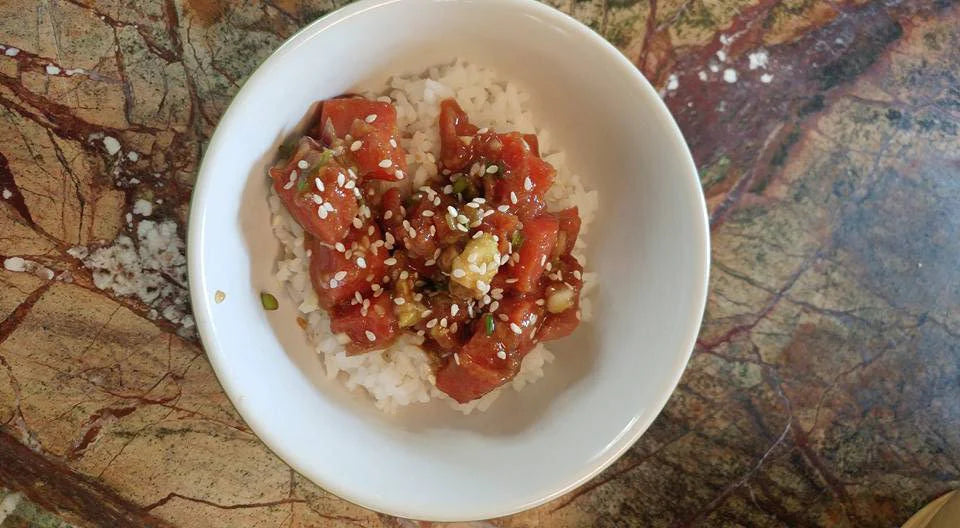 Step 3:
Combine Soy/Tamari, Sesame Oil, Lime Juice, & Scallions in a bowl.  Mix well.
Step 4:
Add Sockeye Salmon Cubes and chopped Avocado, mix gently until fully integrated.
Step 5:
Garnish with sesame seeds, furikake seasoning, and Ikura.  Serve with steamed rice and seaweed salad.
Above all - ENJOY!
What's your favorite poke recipe?  Let us know in the comments below - we'd love to hear from you!
Please share our recipe with your friends!